Let's Get Your Home Remodel Started!
We're Home Remodeling Contractors in Lake Geneva, WI
Are you ready to remodel your home? J Kruzan Construction & Remodeling, LLC provides high-quality remodeling services and customer care that is second to none. Our experienced remodeling contractors are dedicated to providing a construction experience you can enjoy, and results you'll truly love. We can help you with remodels of all sizes, including kitchen, bathroom, basement, and whole home remodels.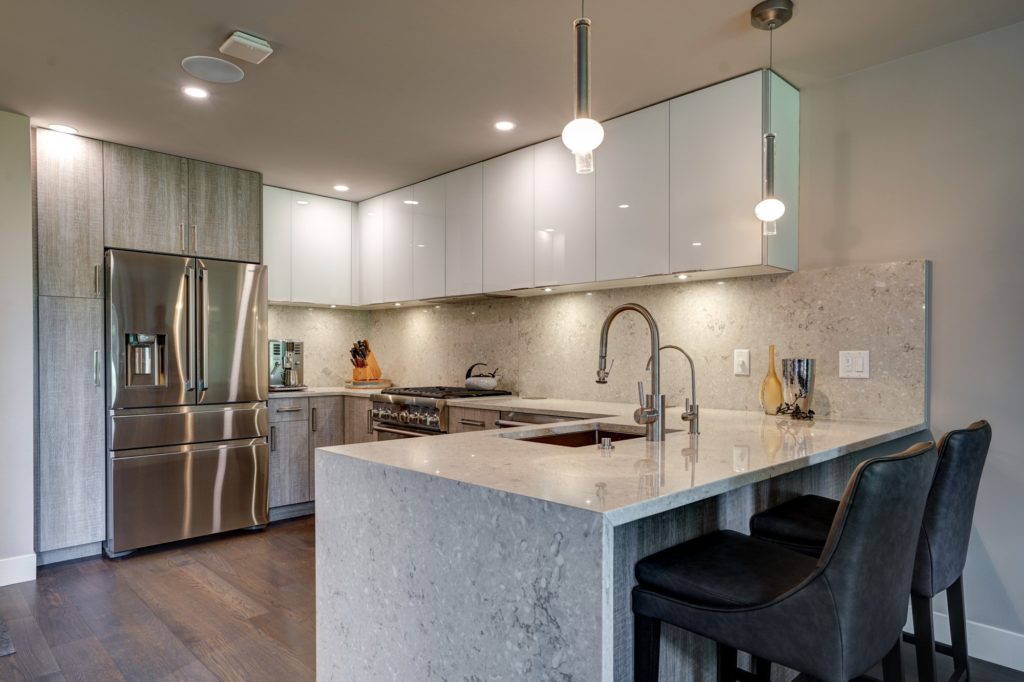 As a remodeling general contractor, we have an in-house team of carpenters that work on your project from start to finish. Since remodels often require trade services, we have partnered with a talented team of subcontractors (plumbers, electricians, drywallers, painters, etc.) that work with us as necessary. Find out if we're the right partner for your home remodeling project – let's schedule a consultation!
Our service areas include Lake Geneva, Williams Bay, Delavan, Elkhorn, Burlington, and the surrounding areas in Walworth, Kenosha & Racine Counties.
Bathroom Remodels
Tired of that old, drab bathroom? We can help! Our Lake Geneva remodeling contractors have the experience and resources to help you with bathroom remodels of all sizes. Whether you're interested in a small makeover or luxury transformation, we'd be happy to discuss your budget and how we can help. Even low budget updates – like fresh paint, a new vanity, mirrors, lighting fixtures, and bathroom tiling – can go a long way in improving the aesthetics of your bathroom. Our talented contractors are more than capable of handling large bathroom remodels that include floor plan changes too. Let's explore your bathroom remodeling ideas and get an estimate started.
Kitchen Remodels
Is your kitchen lacking in function or style? Our construction team would love to embark on the exciting journey that is kitchen remodeling with you. We'll walk you through your kitchen design options and help you make decisions that best suit your budget & style preferences. When designing a kitchen remodel, there are a lot of decisions to make – you'll be choosing flooring, countertops, a backsplash, cabinets, hardware, color schemes, appliances, lighting fixtures, custom features, and more. Our team focuses on making the entire process easy and fun. Most importantly, we'll make sure the finished product is exactly what you want.
Basement Remodels
Whether it's time to officially finish your basement or you're looking to maximize space, we're eager to help! When it comes to basement remodels, you have a lot of options. You can transform your basement into the ultimate family space with an area for entertainment and the addition of a kitchenette for convenience. Maybe you're dreaming of a private home office, a spacious home gym, or a comfortable guest bedroom & bath. No matter your vision, Kruzan can help you achieve it!
Bedroom Remodels
When renovating your home, don't forget about the bedrooms. Even minor updates can make a big difference on guest bedrooms and kids bedrooms. We're also excited about the growing interest in master suite remodels. After all, every homeowner deserves a comfortable, luxurious space designed specifically for them. Not enough space for the master suite you are dreaming about? We have the resources and expertise to expand your space if desired. Let's discuss your options today – call us!
Living Room Remodels
We love helping owners with living room remodels. Homes and ideas vary widely client to client and every living room project is a new and exciting opportunity for our team. Whether you're dreaming of an open concept floor plan, a beautiful gas fireplace, bigger windows, beautiful lighting fixtures, custom built-in room elements, or all of this and more; Kruzan can help! Check out our project gallery to see photos and tours of our recent living room remodels or call us to get your project started today!
Complete Home Remodels
Did you buy a fixer-upper? Our licensed construction contractors can help you with a complete home remodel that transforms an old or unusable space into the home of your dreams. A complete home remodel is a large project. Our team works meticulously to ensure the money and time you're investing in a home remodel is truly worthwhile. If you're interviewing Lake Geneva home remodeling contractors, make sure J Kruzan Construction & Remodeling, LLC is at the top of your list.
Trust Our Construction Contractors for Your Home Addition Too
If space is your problem, you can trust our residential construction team with your home addition. We can help you with sunroom additions, garage additions, porch & deck additions, and more. Don't hesitate to give us a call if you're interested in a home addition quote.