Time to Update Your Home? Let's Get Started!
Home Construction Services in Lake Geneva, WI
Homes are one of our most treasured possessions. Not only an important asset but also our families' safe haven. When it's time to update, renovate, or expand your home; trust J Kruzan Construction & Remodeling. We are proud to serve Lake Geneva homeowners with first-rate home construction services. If you're interviewing local contractors for your home improvements, we'd love to discuss your project and why our team is the best choice for the job. Schedule a consultation today – call us at 262-348-9800.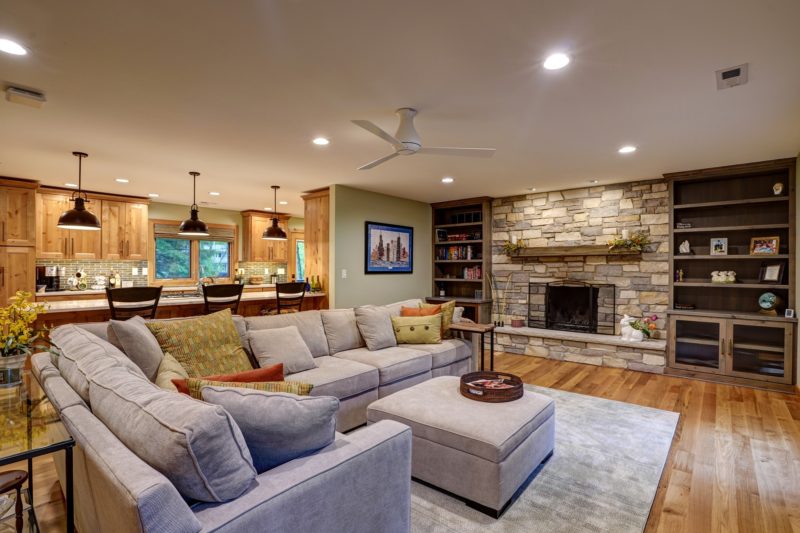 Lake Geneva Remodels & Additions
Our Lake Geneva Construction & Remodeling Company has the experience, resources, and manpower to undertake projects of all sizes. Whether you're interested in updating your windows & doors, making over your kitchen, adding a bathroom to your basement, expanding your master suite, adding a deck to the back of your home, or something else entirely; we can help!
When you choose Kruzan for home remodels & additions, you can experience design samples first-hand at our Lake Geneva Showroom. A shortlist of our home construction services includes:
Kitchens
Make your kitchen exactly what you want. Whether that's changing the floor plan to add function, a kitchen bump-out to add more space, or a remodel to update your cabinets, countertops, backsplash, and more.
Bathrooms
Is your bathroom too small? The styling outdated? Do you need an extra bathroom to accommodate your family's needs? We excel in bathroom remodels and additions. Call us to discuss your options.
Living Rooms
Remodeling your living room will have a profound effect on the comfort and design of your home. Whether you're dreaming of an open concept, a beautiful gas fireplace, built-in room elements, or more, we'd love to help you explore your options.
Master Suites
Are you thinking about a master suite remodel? We're not surprised! More and more homeowners are making their master suites a priority when it comes to home updates & remodeling. We can help you revamp your master bedroom, bathroom, & closet.

Basements
Basements offer unlimited design possibilities. Add a kitchenette or bar area, home office or gym, extra bedrooms and a guest bathroom, a rec room for the kids, or the perfect family room; we're ready to help!
Whole Homes
Are you ready for a major home update? Did you just buy a fixer-upper? Kruzan is an excellent choice if you want to renovate or remodel an entire home, including the exterior.
Ready to get a quote started on your Lake Geneva remodel or addition? Contact us!