Get in Touch with Our Kitchen Remodelers!
Get a Quote on Your Lake Geneva Kitchen Remodel
Remodeling your kitchen should be an exciting and rewarding experience. When you choose J Kruzan Construction & Remodeling, LLC as your general contractor, an easy process and complete satisfaction with the finished product is exactly what you'll get. We're proud to serve homeowners in Lake Geneva, Wisconsin and the surrounding areas. If you're ready to discuss kitchen design ideas and get a remodeling estimate, give us a call at 262-348-9800 today!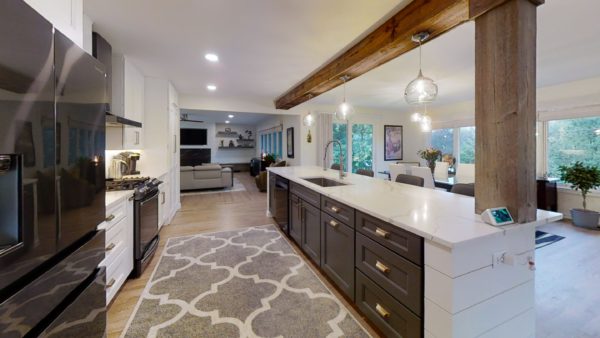 Why Choose Kruzan
We offer our clients experience, a steadfast commitment to safety, and a hands-on approach to construction. Our entire team is dedicated to making you feel comfortable and involved with your remodeling project. We'll help you understand the construction process better and more importantly, ensure you're making informed decisions about the design of your new kitchen. You can trust you're getting the highest quality remodeling services because our in-house carpentry team will lead the work on your home. When necessary, we have reputable subcontractors to complete specialty trade work. Don't hesitate to call us if you're interested in learning more!
Kitchen Remodeling Contractors Near You
Are you looking for a kitchen remodeler in your area? J Kruzan Construction & Remodeling, LLC is an excellent choice! Our friendly contractors and Lake Geneva Showroom make choosing materials for your kitchen design easy. We'll walk you through options that match your style preferences and budget, including cabinets, islands, sinks & faucets, backsplash tiles, countertops, flooring, and more. Most importantly, we will ensure you understand your construction contract, what expenses are included, and how we'll handle any desired changes during the project.
Kitchen remodel costs vary depending on the project scope. A small budget may include cabinet updates, fresh paint, and a new tiled backsplash. A large budget is required for floor plan changes, custom cabinets, new counters and flooring, and modern appliances. Let's discuss your ideas and the latest kitchen trends to determine the budget for your remodel!
Kitchen Remodels by J Kruzan Construction & Remodeling
The photos below will give you a glimpse at a couple of our most recent kitchen remodels. Get in touch if you're interested in learning more!